Syrian Portrait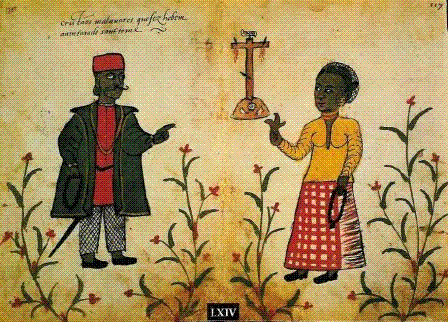 The below folio is from a manuscript at the Casanatense Library in Italy. It is called the 'Portuguese Codice' and is from a collection of manuscripts donated by Cardinal Casanata ( 1620 A.D. -1698 A.D.) to an Italian Public library which was to be run by Dominican monks.
The codice is composed of 76 folios, containing as many aquarelles, with images of various people the author found in Asia and also Africa. In Asia, only Japan is not represented, which suggests that this Album most probably dates from the XVI century. The legends, in lettering of such period, were in all probability inserted by the author.
The author whose name is lost to us seems to have roamed the length and breadth of Portuguese territories in India and the Middle East. Though he does not impress us as a painter, his work is still an excellent primary source of understanding various facets of that period namely cultures, clothing, flora and fauna, weaponry, etc.
Folio LXIV (64) is of particular interest to us as the narration on it which is in old Portuguese reads – 'Malabar Christians, developed by the well ventured Saint Thomas'. The leaf on examination shows a man and a woman, in all probability a couple, standing standing in a field of flowers, the lady holding a flower in her hand with a Cross in the foreground.
Now, let us study each of the elements of this portrait and see how we could relate them to contemporary Syrian Christian society and tradition. The flower garden chosen as the background goes in hand with contemporary portraits of that era common to both the West and the Orient. Compare this with many Mughal and Rajasthani Miniatures of that era. The theme is similar – (Courting) Couple in a garden. Continue…
Get NEW Articles by e-mail / Enter your e-mail
Nasrani Syrian Christians NETWORK Snapshot
This forum is primarily a pro oriental forum, intended to showcase articles from members of the community about Nasranis and St. Thomas Christianity.
We features different authors, with different opinions,with a passion to express them.
The primary objective is to build awareness about Nasrani culture, traditions, heritage and for sharing different perspectives of history / relevant information's concerning the community
We promise to do our part in delivering the most informative, interesting articles possible, but we need a strong community to help nurture it. So subscribe today, and let us know what you think.
Objectives

↑ Publish, Share, Publicities articles concerning heritage, traditions, culture and historical research.
↑ Provide an overview of history from contributing articles and citing books of well known authors.
↑ Publicities and provide review for works of well known authors, historians and projects concerning the community and society at large.
↑ Providing review of articles published by authors about the community.
↑ Highlighting the contributions of the community to the society.
↑ To provide awareness about the community, history, pilgrim centers and analysis of news concerning the Syrian Christian community.
↑ To build unity among different denominations of St. Thomas Christian community through collective efforts.
Guideline

↑ Posts aligned with our objectives are most welcome, regardless of opinion.
↑ Please, post your opinions on relevant articles. Its good to have related discussions along with the article for the benefit of readers. Complete list of the articles are listed in the Archives page and please use that for identifying discussed topics.
↑ Posts concerning issues which are of importance and on general topics, please use the relevant discussion pages.
↑ We encourage comments, critiques, questions, additional/ related/missing information, suggestions and corrections.
↑ We also encourage participants to provide answers to questions raised on article or on posts.
↑ Please stay on topic, respect other people's opinions, avoid profanity, offensive statements or anything else that might otherwise violate our policy
If you would like to colloborate please drop us an email.