Mural Tradition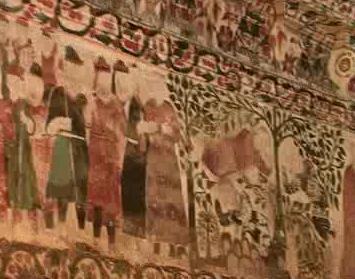 The mural paintings remained a major medium of public communication for over a thousand years. Great cycles of religious stories were spread across the walls of ecclesiastical structures almost as Christianity became state religion in west and at a similar period in east. Pope Gregory the Great ( 590-604) is said to have encouraged the pictographic forms as the ideas conveyed are universally communicable. For a long time in history pictures, inscriptions worked together as an explanatory symbiosis of Christianity.
Historical discussions of visual story telling began in the beginning of nineteenth century. This article examines some of the Mural paintings in Kerala Churches.1
Many Kerala churches have century old murals to decorate their walls. Most of these are done in Kerala style. There are famous Altar and Madhbaha decorations in Ollur, Kanjoor, Kottayam, Alangad, Koratty, Chengannur, Akaparambu, Paliakkara, Pazhuvil, Thumpamon, Palai, Kaduthuruthy and Mulanthuruthy.
The huge Angamaly paintings of Hell and the Last Judgement are incomparable contributions of Kerala to the world mural heritage. The mural paintings of Cheppad, Piravam, Paliakkara, Angamaly,Akaparambu, Kanjoor, Ollur, Pazhaji and Vechoor deserve world recognition for their artistic excellence and skill of execution.2
The centuries old jute panels which decorate the ceiling of the Ollur Church are 300 squre feet each in size. Continue…
Collected from different sources- SARAS and other sources [↩]
Prof.George Menachery Articles [↩]
Get NEW Articles by e-mail / Enter your e-mail
Nasrani Syrian Christians NETWORK Snapshot
This forum is primarily a pro oriental forum, intended to showcase articles from members of the community about Nasranis and St. Thomas Christianity.
We features different authors, with different opinions,with a passion to express them.
The primary objective is to build awareness about Nasrani culture, traditions, heritage and for sharing different perspectives of history / relevant information's concerning the community
We promise to do our part in delivering the most informative, interesting articles possible, but we need a strong community to help nurture it. So subscribe today, and let us know what you think.
Objectives

↑ Publish, Share, Publicities articles concerning heritage, traditions, culture and historical research.
↑ Provide an overview of history from contributing articles and citing books of well known authors.
↑ Publicities and provide review for works of well known authors, historians and projects concerning the community and society at large.
↑ Providing review of articles published by authors about the community.
↑ Highlighting the contributions of the community to the society.
↑ To provide awareness about the community, history, pilgrim centers and analysis of news concerning the Syrian Christian community.
↑ To build unity among different denominations of St. Thomas Christian community through collective efforts.
Guideline

↑ Posts aligned with our objectives are most welcome, regardless of opinion.
↑ Please, post your opinions on relevant articles. Its good to have related discussions along with the article for the benefit of readers. Complete list of the articles are listed in the Archives page and please use that for identifying discussed topics.
↑ Posts concerning issues which are of importance and on general topics, please use the relevant discussion pages.
↑ We encourage comments, critiques, questions, additional/ related/missing information, suggestions and corrections.
↑ We also encourage participants to provide answers to questions raised on article or on posts.
↑ Please stay on topic, respect other people's opinions, avoid profanity, offensive statements or anything else that might otherwise violate our policy
If you would like to colloborate please drop us an email.