Architecture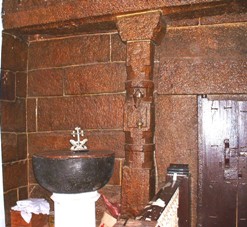 Architecture is that great living creative spirit which from generation to generation, from age to age, proceeds, persists, creates, according to the nature of man, and his circumstances as they change. That is really architecture."
—Frank Lloyd Wright,  In the Realm of Ideas
The Church in Kerala has always been a central source which has preserved the continuity of faith and tradition from one generation to the  next, through the mists of time. This article which references sevaral sources sheds light on the architecture of the Syrian Christian Churches found across Kerala. We will also discuss the possible reasons behind the choice of those particular  architectural characteristics.
The traditional Kerala form of architecture has buildings with low walls, sloping roof and projecting caves. The rooms had numerous openings by way of windows and apertures on the walls through which the houses could breathe in and the hip gables (mokappu) placed on the roofs allowed the hot air that rose up to flow out. If there were false ceilings below the roofs, the mokappu allowed the air to flow freely in and out of the air space thus allowing the roofs to breathe. This design mostly evolved from climatic considerations – for protection from excessive rain and intense solar radiation. The setting of the building in the open garden plot was again necessitated by the requirement of wind for giving comfort in the humid climate.
The natural building materials available for construction in Kerala are stones, timber, clay and palm leaves. Timber is the prime structural material abundantly available in many varieties in Kerala – from bamboo to teak. Perhaps the skilful choice of timber, accurate joinery, artful assembly and delicate carving of wood work for columns, walls and roofs frames are the unique characteristics of Kerala architecture. Clay was used in many forms – for walling, in filling the timber floors and making bricks and tiles after pugging and tempering with admixtures. Palm leaves were used effectively for thatching the roofs and for making partition walls. Continue…
Get NEW Articles by e-mail / Enter your e-mail
Nasrani Syrian Christians NETWORK Snapshot
This forum is primarily a pro oriental forum, intended to showcase articles from members of the community about Nasranis and St. Thomas Christianity.
We features different authors, with different opinions,with a passion to express them.
The primary objective is to build awareness about Nasrani culture, traditions, heritage and for sharing different perspectives of history / relevant information's concerning the community
We promise to do our part in delivering the most informative, interesting articles possible, but we need a strong community to help nurture it. So subscribe today, and let us know what you think.
Objectives

↑ Publish, Share, Publicities articles concerning heritage, traditions, culture and historical research.
↑ Provide an overview of history from contributing articles and citing books of well known authors.
↑ Publicities and provide review for works of well known authors, historians and projects concerning the community and society at large.
↑ Providing review of articles published by authors about the community.
↑ Highlighting the contributions of the community to the society.
↑ To provide awareness about the community, history, pilgrim centers and analysis of news concerning the Syrian Christian community.
↑ To build unity among different denominations of St. Thomas Christian community through collective efforts.
Guideline

↑ Posts aligned with our objectives are most welcome, regardless of opinion.
↑ Please, post your opinions on relevant articles. Its good to have related discussions along with the article for the benefit of readers. Complete list of the articles are listed in the Archives page and please use that for identifying discussed topics.
↑ Posts concerning issues which are of importance and on general topics, please use the relevant discussion pages.
↑ We encourage comments, critiques, questions, additional/ related/missing information, suggestions and corrections.
↑ We also encourage participants to provide answers to questions raised on article or on posts.
↑ Please stay on topic, respect other people's opinions, avoid profanity, offensive statements or anything else that might otherwise violate our policy
If you would like to colloborate please drop us an email.