Pantaenus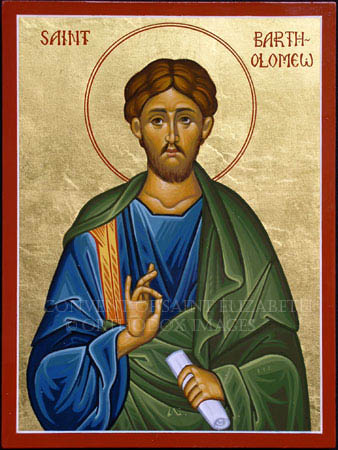 1. Mission of Pantaenus in India
About a hundred and twenty years ( ca.180 or 190) after the traditional date of the martyrdom of Saint Thomas the Apsotle, a second Christian mission is reported to have reached India. The great Church in Alexandria, center of Egyptian Christianity sent its most famous scholar, Pantaenus, head of the theological School in that city, " to preach Christ to the Brahmans and philosophers there", wrote Saint Jerome in the fifth century.1
A deputation from India reached Alexandria some time in 179 or 189 AD. Impressed by the erudition of Pantaenus, according to Saint Jerome, they asked Demetrius to send him to India for discussions with their own Hindu philosophers and it is to the credit of the good bishop that he judged the Christian world mission to be no less urgent a priority then the advancement of Christian learning. Without hesitation he took his most famous scholar from the theological school and sent him as a missionary to the East. Eusebius also gives an early account of this mission.
Both Eusebius and Saint Jerome has reported that Pantaenus found Gospel of Mathew reported to have left there in India by Saint Bartholomew. Some writers has suggested that having difficulty with the language of Saint Thomas Christians, Pantaenus misinterpreted their reference to Mar Thoma ( Bishop Thomas) as Bar Tolmai ( the Hebrew name of Bartholomew). Some others say Eusebius and Saint Jerome confused India with Arabia or Persia as was done by some other classical writers.
Interestignly, the pupils and successors of Pantaenus, Clement and Origen, write about India as if they know more of that land than passing myths and in no way confused it with Arabia and Persia. They may have heard this from Pantaenus himself. They speak of "Indian Brahmans" and "gymnosophists" and Clement writes discerningly of the difference between "Sarmanane" and "Brahmans" describing the former in terms that suggest the "hermits" or "holy men of India".2
2.Mission of Saint Bartholomew the Apostle in India
Two ancient testimonies exist about the mission of Saint Bartholomew the Apostle in India. These are of Eusebius of Caesarea ( early forth century) and of Saint Jerome ( late forth century). Both these refer to this tradition while speaking of the reported visit of Pantaenus to India in the second century.
According to Eusebius, Pantaenus, "is said to have gone among the Indians, where a report is that he discovered the Gospel according to Mathew among some there who knew Christ, which had anticipated his arrival: Bartholomew, one of the Apostles, had preached to them and had left them the writings of Mathew in Hebrew letters, which writing they preserved until the afore-said time"
Saint Jerome would have that Demetric, Bishop of Alexandria, sent to him India, at the request of legates of that nation. In India Pantaenus " found that Bartholomew, one of the twelve apostles, had preached the advent of Lord Jesus according to the Gospel of Matthew, and on his return to Alexandria he brought this with him written in Hebrew characters.."
In these testimonies Eusebius appears to be not quite sure of what's reported. Saint Jerome, while writing to Marcellus, acknowledge the primacy of Saint Thomas, the Apostle in India. Continue…
Jerome- Epistola LXX ad Magnum oratorem urbis Romae [↩]
Clement- Stromata, 15 [↩]
Get NEW Articles by e-mail / Enter your e-mail
Nasrani Syrian Christians NETWORK Snapshot
This forum is primarily a pro oriental forum, intended to showcase articles from members of the community about Nasranis and St. Thomas Christianity.
We features different authors, with different opinions,with a passion to express them.
The primary objective is to build awareness about Nasrani culture, traditions, heritage and for sharing different perspectives of history / relevant information's concerning the community
We promise to do our part in delivering the most informative, interesting articles possible, but we need a strong community to help nurture it. So subscribe today, and let us know what you think.
Objectives

↑ Publish, Share, Publicities articles concerning heritage, traditions, culture and historical research.
↑ Provide an overview of history from contributing articles and citing books of well known authors.
↑ Publicities and provide review for works of well known authors, historians and projects concerning the community and society at large.
↑ Providing review of articles published by authors about the community.
↑ Highlighting the contributions of the community to the society.
↑ To provide awareness about the community, history, pilgrim centers and analysis of news concerning the Syrian Christian community.
↑ To build unity among different denominations of St. Thomas Christian community through collective efforts.
Guideline

↑ Posts aligned with our objectives are most welcome, regardless of opinion.
↑ Please, post your opinions on relevant articles. Its good to have related discussions along with the article for the benefit of readers. Complete list of the articles are listed in the Archives page and please use that for identifying discussed topics.
↑ Posts concerning issues which are of importance and on general topics, please use the relevant discussion pages.
↑ We encourage comments, critiques, questions, additional/ related/missing information, suggestions and corrections.
↑ We also encourage participants to provide answers to questions raised on article or on posts.
↑ Please stay on topic, respect other people's opinions, avoid profanity, offensive statements or anything else that might otherwise violate our policy
If you would like to colloborate please drop us an email.