Numismatics
Foreign coins discovered from many sites in modern India are many and varied. This include the Persian and Greek coins discovered from North India ( modern Pakistan ) and the vast number of Roman coins from South India in Malabar coast highlighting the trade relations between Roman ports and the Indian ports in Malabar coast.
What is interesting from the numismatics is the attestation of the early literature confirming the mission of St. Thomas the Apostle in India. It also corroborates the trade relationship modern Kerala had in ancient times shedding lights on the origin of Nasranis.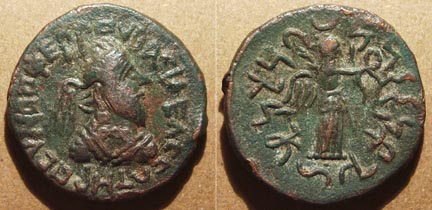 This article discuss about some of the coin found and the significance of numismatics with the mission of St. Thomas in India.
1. Gondophares coins
Gondophares is connected to St Thomas in early Christian traditions embodied in the Acts of Thomas. The Acts of Thomas describes St.Thomas embarking on a sea voyage to India, thus connecting Thomas to the west coast of India and his martyrdom with a king in South. Though the Acts are usually considered to be moral entertainments of a legendary nature, the Periplus of the Erythraean Sea is a surviving roughly contemporary guide to the routes commonly being used for navigating the Arabian Sea.
At the times the Acts were analysed, and until the discovery of his coins in the region of Kabul and the Punjab, there was no reason to suppose that a king named "Gondophares" had ever really existed.
Till 1834, questions on St. Thomas mission were around the historical figure King Gondophares. Did a king of the name of Gondophares reign over any portion of India? Was he a contemporary of the Apostolic age? Where was his kingdom situated? Was it practicable for the Apostle Thomas to have had access to it? Continue…
Get NEW Articles by e-mail / Enter your e-mail
Nasrani Syrian Christians NETWORK Snapshot
This forum is primarily a pro oriental forum, intended to showcase articles from members of the community about Nasranis and St. Thomas Christianity.
We features different authors, with different opinions,with a passion to express them.
The primary objective is to build awareness about Nasrani culture, traditions, heritage and for sharing different perspectives of history / relevant information's concerning the community
We promise to do our part in delivering the most informative, interesting articles possible, but we need a strong community to help nurture it. So subscribe today, and let us know what you think.
Objectives

↑ Publish, Share, Publicities articles concerning heritage, traditions, culture and historical research.
↑ Provide an overview of history from contributing articles and citing books of well known authors.
↑ Publicities and provide review for works of well known authors, historians and projects concerning the community and society at large.
↑ Providing review of articles published by authors about the community.
↑ Highlighting the contributions of the community to the society.
↑ To provide awareness about the community, history, pilgrim centers and analysis of news concerning the Syrian Christian community.
↑ To build unity among different denominations of St. Thomas Christian community through collective efforts.
Guideline

↑ Posts aligned with our objectives are most welcome, regardless of opinion.
↑ Please, post your opinions on relevant articles. Its good to have related discussions along with the article for the benefit of readers. Complete list of the articles are listed in the Archives page and please use that for identifying discussed topics.
↑ Posts concerning issues which are of importance and on general topics, please use the relevant discussion pages.
↑ We encourage comments, critiques, questions, additional/ related/missing information, suggestions and corrections.
↑ We also encourage participants to provide answers to questions raised on article or on posts.
↑ Please stay on topic, respect other people's opinions, avoid profanity, offensive statements or anything else that might otherwise violate our policy
If you would like to colloborate please drop us an email.