Author Archive
CONTENTS
INTRODUCTION
HISTORY SETS IN
KUTTANADU : CHAMPAKULAM – KALLOORKKADU CHURCH
THEKKE ANGADI (SOUTH MARKET) AND THACHIL MATHOO THARAKAN
IKKAKO KATHANAR AT CHAMPAKULAM
IKKAKO KATHANAR AT VERAPOLY (VARAPPUZHA)
GENERAL ASSEMBLY (PALLI-YOGAM) AT ANGAMALY
RETURN OF PADRE FRANCIS SALES AS VICAR APOSTOLIC OF MALABAR
TRIAL AND VERDICT IN THE CASE OF IKKAKO KATHANAR'S MURDER
IKKAKO KATHANAR AND PALACKAL THOMMA MALPAN
CONCLUSION
REFERENCES
1.Introduction
Centuries before, an incident shook both the land of Malabar and the Saint Thomas Christian community; the murder of one of their priests, Ikkako Kathanar, by European missionaries at the church in Verapoly (Varappuzha).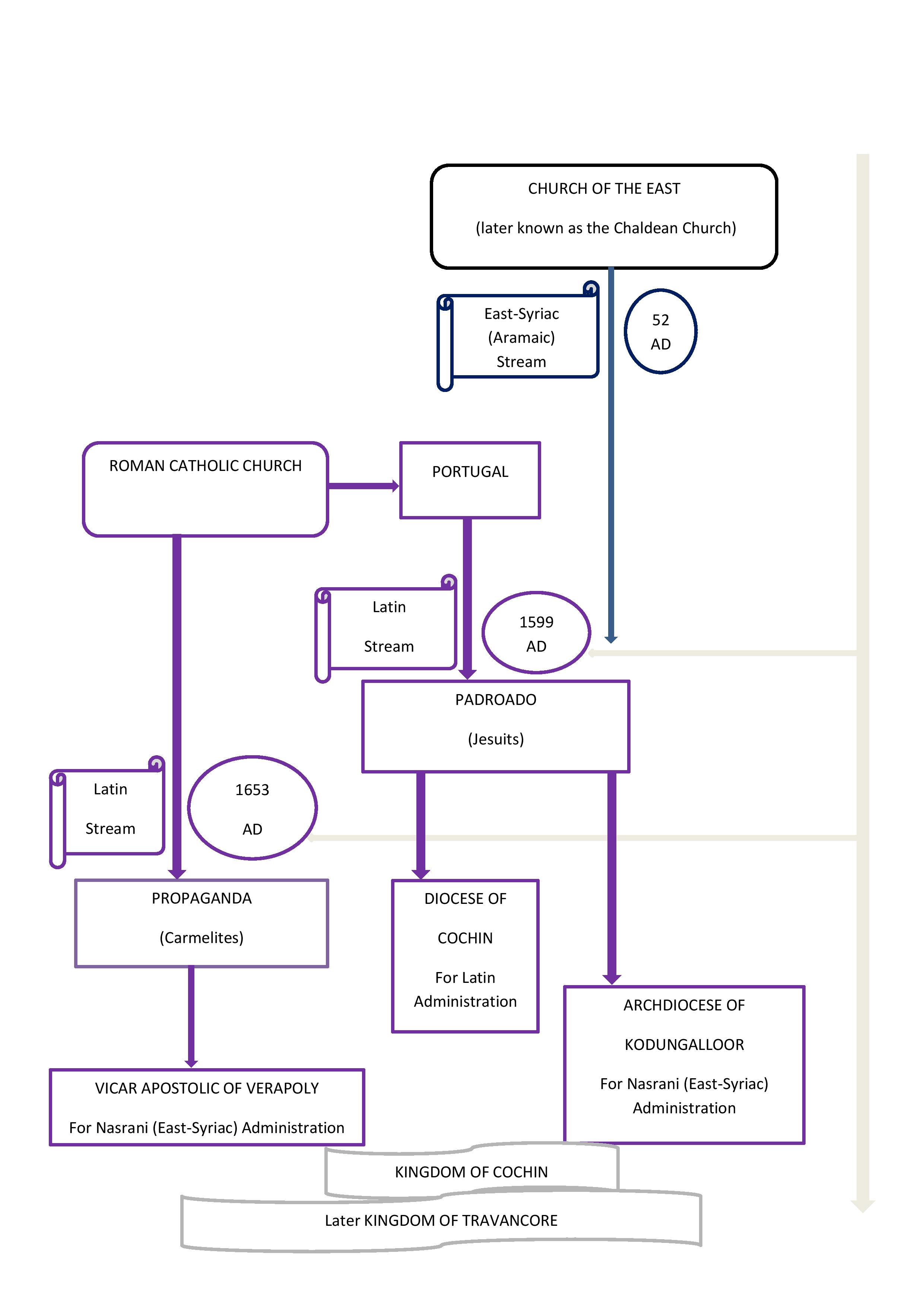 This incident in 1771 AD resulted in long ramification in the turbulent history of the ancient community of Saint Thomas Christians whose existence was threatened by the colonisation of the Malabar Coast of south-west India by European powers beginning with the Portuguese.
2.History sets in
The Saint Thomas Christians, locally known as Mar Thoma Nasranis, Suriyani Nasranis, Syrian Christians or simply Nasranis trace their origin to the missionary works of Saint Thomas the Apostle, who in Aramaic (East-Syriac) is known as Mar Thoma Sleeha. This community of Christians that existed in many parts of India were eventually restricted to the south-west Malabar Coast of India, encompassing the modern state of Kerala and nearby regions. They followed the ancient Aramaic (East-Syriac) tradition in worship and Aramaic was their liturgical language. Aramaic was the language of Jesus Christ and His disciples as well. The Nasranis were profoundly attached to the Aramaic (East-Syriac) language and their Aramaic heritage.1
The Nasranis were a fiercely independent community under its head who was known as the Archdeacon (Jathikku Karthavyan) and he held the title of 'Archdeacon and Gate of All India'. The Archdeacon also commandeered an army of his own. Each church had its own church assembly consisting of priests and laymen. The Archdeacon was guided by a General Assembly, known as the Palli-Yogam, consisting of both priests and laymen representing all churches. European missionaries marvelled at this and called the community as a Christian Republic.2
Geographically, the Nasranis were located in territories ruled by local Hindu kings and vassals and ecclesiastically they were part of the (East-Syriac) Church of the East which sent Bishops from Babylon and Persia. The bishops for the most part exercised the power of order only and the Nasranis lived a peaceful community life for centuries this way.
But things were about to change for them soon with the advent of the Portuguese Vasco da Gama in 1498.
The Portuguese who arrived in the dawn of the 16th century attempted to forcefully westernise the Nasrani community and bring them under their political and ecclesiastical authority. Continue…
1. Paremmakkal Thomman Kathanar, The Varthamanappusthakam, 1786. English translation by Placid J. Podipara, Rome, 1971
2. Vatican Secret Achieves, Armad. VII, Caps. No: 14, Rome, 1902
3. Placid J. Podipara, The Thomas Christians, Bombay/London, 1970 [↩]
4. Paulinus a S. Bartholomaeo, India Orientalis Christiana, Rome, 1794 [↩]
Get NEW Articles by e-mail / Enter your e-mail
Nasrani Syrian Christians NETWORK Snapshot
This forum is primarily a pro oriental forum, intended to showcase articles from members of the community about Nasranis and St. Thomas Christianity.
We features different authors, with different opinions,with a passion to express them.
The primary objective is to build awareness about Nasrani culture, traditions, heritage and for sharing different perspectives of history / relevant information's concerning the community
We promise to do our part in delivering the most informative, interesting articles possible, but we need a strong community to help nurture it. So subscribe today, and let us know what you think.
Objectives

↑ Publish, Share, Publicities articles concerning heritage, traditions, culture and historical research.
↑ Provide an overview of history from contributing articles and citing books of well known authors.
↑ Publicities and provide review for works of well known authors, historians and projects concerning the community and society at large.
↑ Providing review of articles published by authors about the community.
↑ Highlighting the contributions of the community to the society.
↑ To provide awareness about the community, history, pilgrim centers and analysis of news concerning the Syrian Christian community.
↑ To build unity among different denominations of St. Thomas Christian community through collective efforts.
Guideline

↑ Posts aligned with our objectives are most welcome, regardless of opinion.
↑ Please, post your opinions on relevant articles. Its good to have related discussions along with the article for the benefit of readers. Complete list of the articles are listed in the Archives page and please use that for identifying discussed topics.
↑ Posts concerning issues which are of importance and on general topics, please use the relevant discussion pages.
↑ We encourage comments, critiques, questions, additional/ related/missing information, suggestions and corrections.
↑ We also encourage participants to provide answers to questions raised on article or on posts.
↑ Please stay on topic, respect other people's opinions, avoid profanity, offensive statements or anything else that might otherwise violate our policy
If you would like to colloborate please drop us an email.